Welcome to The Revolution Summer Wiki
.
This is an emo wiki that encourages everyone to
edit
.
The goal of the wiki is to be a source of emo information and news.
Citing of sources is not critical, as this wiki aims to *be* a source.
19 articles since Tuesday the eighteenth of November, 2008.
other stuff

stuff
stuff
stuff
stuff
stuff
Discussion (not ready yet)
Check out the community portal to see what the community is working on, to give feedback or just to say hi.
Or head on over to the forums and coordinate with the community on editing, projects, and more.
Helping out
To write a new article, just enter the article title in the box below.
Featured article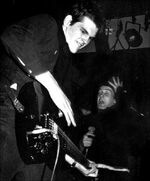 The Revolution Summer
In the mid 80s punks were sick of white power skinheads and other violent and intolerant groups appearing at hardcore shows. Thus they decided to end the violence and take the community back. This was necessary for the community to grow, artistically and creatively. So they started playing more melodic mid-tempo music with introspective lyrics dealing with personal, emotional matters - more than aggressive anti-authoritarian lyrics. This was the "Revolution Summer". And it spawned a hell of a lot great artists. First and foremost Rites of Spring, Embrace and Moss Icon.
Featured media